Irish political dynasties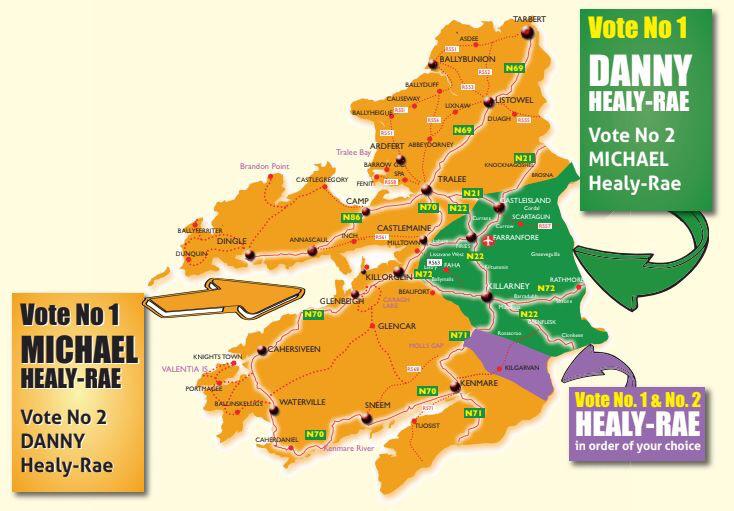 A few days before the Irish election, both Politico.eu and The Guardian published an article on the Healy-Raes, a local political dynasty in County Kerry, Ireland. At the time of writing, Michael Healy-Rae, one of the brothers running in the election, got elected on the first count with 16,695 votes, while his brother Danny looks likely to retain his seat. This will be the sixth time in 23 years that Kerry elects a Healy-Rae, and it likely won't be the last.
But how do they manage to get elected, in a country with a traditional two-party system and without the backing of a political party?
Independent politicians in Ireland are not that rare, in fact, the Irish parliament had 19 elected independent members back in 2016, including 2 Healy-Raes, the brothers Danny and Michael. Independent candidates have to work for thousands of votes to get elected and, without the help of a political party, it might be harder.
Not for the Healy-Raes though, as their extensive canvassing network, their availability to local constituents and their formidable electoral campaigning, which mostly takes place door-to-door in Kerry, keeps getting them elected. The Healy-Raes use every chance and tool they get their hands on; from addressing a crowd after mass, to having trucks with billboards featuring political messages go around the County.
The Healy-Raes also take advantage of the Single Transferable Vote system (STV), used in Irish elections. This allows voters to choose their candidates based on their preferences and mix the vote with candidates from different parties. Here, rankings make a lot of difference and the Kerry political family makes sure to spread its candidates across different areas of the County, maximizing its potential to attract votes.
Another interesting part of the Healy-Raes election campaign is the hyper-localisation, with an extensive local canvassing network forming the backbone of the dynasty. Door to door meetings and campaign leaflets focus on local issues which directly effect the people of Kerry, despite the Healy-Raes competing for a place in the national parliament. This hyper-localisation helps the Healy-Raes with their claim that they are the defenders of the rural folk and do not belong to the Dublin bubble and the metropolitan elite.
"The most effective way of getting votes is by meeting somebody, calling into their home and looking into their eye, and saying: 'will you please vote for me" – Michael Healy-Rae
At the same time, however, the family have also made good use of social media in their campaigns. A video posted on 5th February on Twitter by Michael Healy-Rae and clearly aimed to garner attention, had more than 72 thousand views when the result of the his election was announced.
The Facebook pages of Michael and Danny Healy-Rae have more than 22 thousand likes combined. Not bad for a County that has a population of 147,707 people.
The page belonging to Michael Healy-Rae is filled with photos of the beautiful County Kerry landscape, raw footage from the campaign trail and memes, which sometimes do not even relate to the election, such as this one.
Interestingly enough, and probably goes to show the priority that Michael Healy-Rae gives to the ground campaign, no ads were created by his Facebook page during the 2020 campaign. That of Danny Healy Rae, however, pushed forward 18 different ads, with €917 spent over a period of 11 months, and €508 of them spent in the last seven days of the campaign.
Following Michael Healy-Rae's election to parliament, in a period of 12 hours, a thank you video message quickly got more than 1,100 likes, 75 shares and 11 thousand views, proving that his online campaign has been as formidable as his ground game.
Different methods, different strategies, but in the end both Healy-Raes are expected to get elected to the Irish Parliament once again in 2020.