What you have to go through to travel to Malta during COVID-19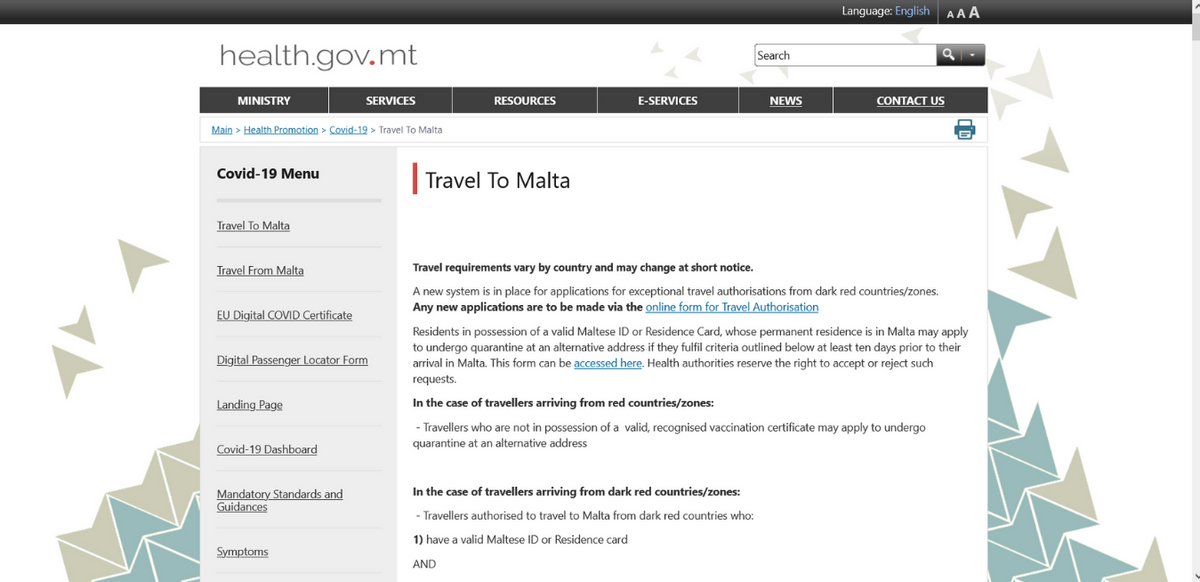 Updated February 2022
The Health Authorities in Malta have been promoting the use of the 'traveltomalta.gov.mt' website for those wishing to travel to the country during the COVID-19 pandemic. Both nationals and non-nationals are encouraged to visit the website to confirm that they can indeed travel to Malta, and if so, the documents they need to present in light of the COVID-19 restrictions put in place by the same Health Authorities. The website has been updated from time to time to include newer legislation and new restrictions, and it has become better, information-wise, over the past months.
The main problem is that the information provided is all over the place with no clear instructions of what one has to look for and where.
Let's take for example, a Brazilian national named João who is based in United Arab Emirates but travels a lot due to his work. He was inoculated with a Sinopharm vaccine in the UAE, but is currently in his hometown in Brazil before having to visit Malta on a business trip later on during the month.
He goes to 'traveltomalta.gov.mt' before he books his flights and accommodation. This is what he currently sees: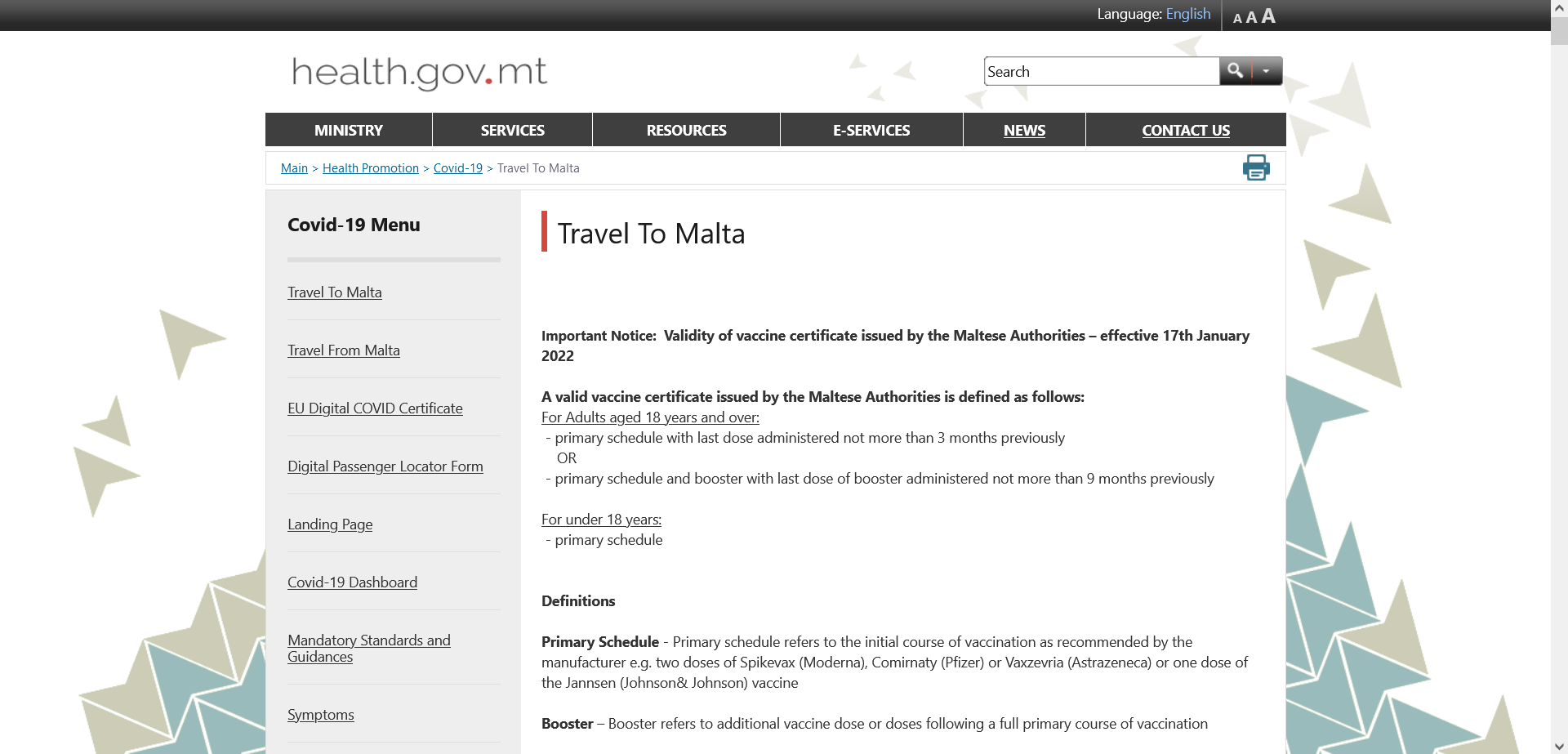 Naturally, he starts by scanning the first lines of the page – the 'above the fold' section on a website is the most important part and should be planned to make the user experience as smooth as possible, with as little clicks needed as possible.
In this case,  João learns that travel requirements may change at a short notice. Good, he will be keeping an eye out for an updates before he leaves for Malta.
The second line is informing online visitors that there is a new application form in place for those travelling to Malta from 'dark red country/zones', with a handy link for the form itself. But what are 'dark red countries/zones' for Malta? Is Brazil in this list? what are the other lists? He just wants to visit Malta for a business trip, this is not 'exceptional travel', can he still apply or will this be rejected outright?
He sees information for 'residents in possession of a valid Maltese ID or Residence Card, but immediately skips this part as he has neither of these things.
João continues reading on information for travellers arriving from 'red countries/zones', but he does not know which countries/zones are in this list or the dark red one, which is again made reference to in the 'above the fold' section. He needs to find the countries in these lists, so he starts to scroll down.
He stops when he sees an eye-catching graphic.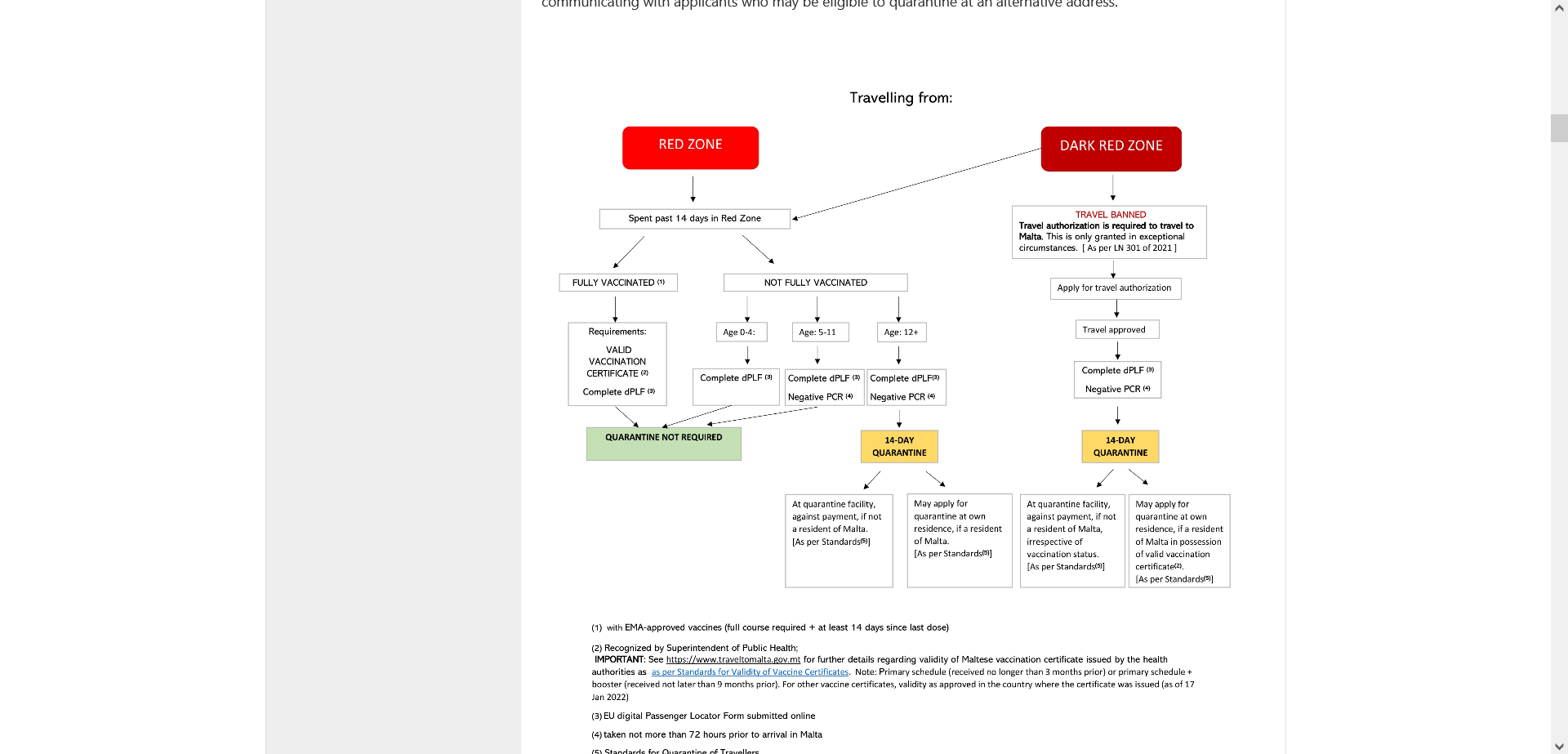 The graphic helps him understand better what the is required of passengers travelling from red countries/zones and dark red countries/zones, but he still does not know the countries/zones in these lists. He also learns that if Brazil is in the Red Zone, he will just need to complete a Passenger Locator Form, since he is fully vaccinated. However, if Brazil is in the Dark Red Zone, he will need to apply for 'travel authorisation', but as this is only granted in exceptional circumstances, he does not know if business travel is considered 'exceptional'.
João easily finds the link to the Passenger Locator Form by scrolling down a bit further, but when he reads point 2, he realises that Sinopharm is not an 'EMA approved vaccine'. Does this mean that he cannot travel to Malta, even if he is fully vaccinated? He has a valid vaccine certificate from the UAE Dubai authorities, which is in the list right after point 2. That is, of course, if Brazil is in the Red Zone, but he does not know if that's the case or not yet.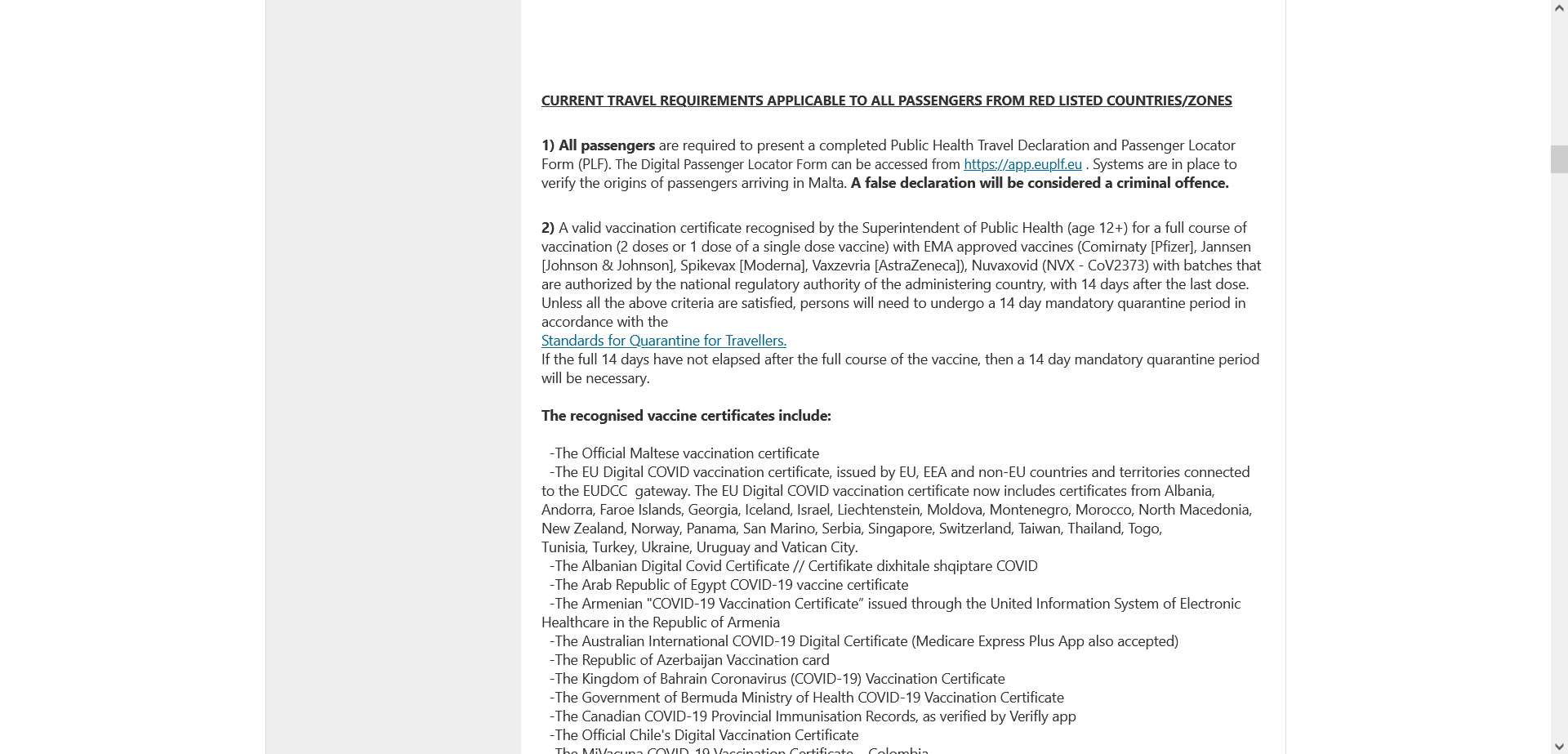 He scrolls down again and finally finds the list of countries/zones in the so-called 'Red list'. He cannot find Brazil in it, so he thinks that the country might be in the 'Dark Red list', but does not yet know if there's a 'Green list', an 'Orange list' or a list of any other colour. Could Brazil be in a different list?
He scrolls down again and finds a section on the countries/zones of the 'Dark Red list'. Again, he reads that if Brazil is on this list than he has to apply for travel authorisation, on the form he has seen earlier. He can only apply if he is a returning Maltese citizen, which he is not; a resident for a long term stay, he is also not; and if the travel is considered essential by Superintendent of Public Health in cases of adoption, reunification of spouse/partner/minor/child with parents. Business travel is not mentioned, so João thinks that this is not considered essential. Can he still try to apply and ask for authorisation? Will this be rejected outright or will the Health Authorities take this into consideration?
He also learns that he has to follow a 14 day quarantine at a location chosen by the Health Authorities but paid by himself, if he is authorised to fly. He finally manages to find the list of countries in the Dark Red Zone and Brazil is listed. Good, at least now he knows that he cannot fly to Malta unless he is authorised to do so after applying on the online form.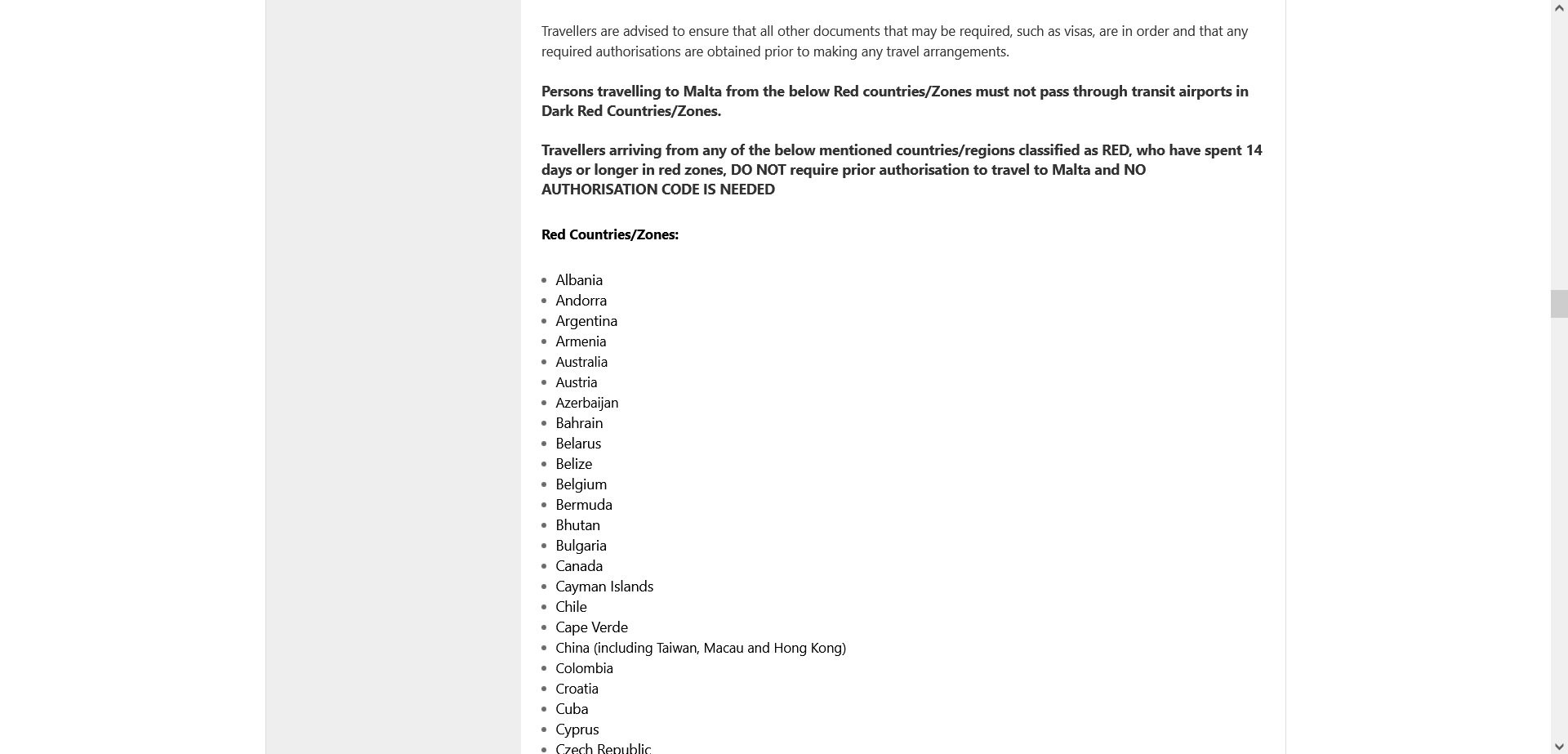 João scrolls down and sees another list of recognised vaccine certificates. Is this the same list as before, or is it an newer/older version? He skims through the points under 'Further Information' and is met with a hyperlink to a leaflet titled 'Welcome to Malta – How to Stay Safe'. He thinks this will be handy if he manages to travel to Malta and opens the link but the amount of wording on the pdf overwhelms him and after a quick glance he closes the tab.
He decides to go back to the link of the 'Travel Authorisation' form and apply online.
General comments
The case of João from Brazil is a rather complicated one, as not everyone will be living in different countries, have certificates from different authorities and travel frequently. Many people will be nationals of the country where they were inoculated and try to avoid flying during these times. However the same issues apply in this case. The would-be travellers will still have to figure out which country/zone is on which list, and even then, the documents needed and any exceptions are still not clear.
As mentioned above, the 'above the fold' section should include as much information as possible for the user, so that he/she do not have to search for this themselves. To do this, the user interface of traveltomalta.gov.mt needs an overhaul in order to make the experience of the user easier and quicker.
Even if the user interface is not changed, any updates to the restrictions should not just be copy-pasted on the website above the older information, but re-arranged depending on the updating info. For example, changing the method of authorising travellers from 'dark red countries/zones' should only interest those travellers from countries/ones in the dark red list. Putting this information in the first lines of the website, just because this was the latest update, leads to more confusion.
Some of the information is also displaced twice, such as info on the recognised vaccine certificates and what the Health Authorities in Malta do not recognise as valid COVID-19 travel documents. This confuses the user on whether both lists are the same or if one of them is an update of the other. The list of non-recognised COVID-19 documents is especially important because a lot of countries, including Member States of the European Union recognise COVID-19 Recovery Certificates, as well as negative PCR tests, as proof of being COVID-free when travelling, while Malta does not. This confuses a lot of people when they come to make travel arrangements and they end up either calling/emailing the Health Authorities directly or Maltese Embassies abroad.
How to make user experience better?
Some immediate improvements that come to mind include:
Changing completely the way the user gets information, that is, a complete overhaul of the user interface. Rather than expecting the user to find information that he/she do not know if it exists in the first place, the platform should be responsible for showing all the information depending on the user's details.
This could take the form of a platform that allows users:
to choose their country/zone of residence in an 'above the fold' dropdown list;
identify what type of vaccine certificate they have, if they do at all;
tick a box on whether they are Maltese citizens or residents.
Once the data is entered, this brings up all the information related to that country/zone and the vaccine certificate including:
on which list is the country/zone located;
a Yes/No answer to 'can I travel to Malta right now?';
If Yes, what documents do I need to have to ensure that I will be allowed inside the country.
a Yes/No answer to 'do I need to quarantine if I visit Malta right now?';
if Yes, as a Maltese citizen and resident can I quarantine at my house?
COVID-19 restrictions within Malta – do you have to wear a mask, what kind of mask, where do you need to wear it? etc
All of the information can probably be shown in the visible portion of the website, depending on the choices made by the users. This is, of course, a bit harder to implement than just adding words on the website when restrictions change, but I believe that it will deliver a better, less bureaucratic, and a less confusing, experience to those wishing to travel to Malta, while reducing emails and calls made to the Health Authorities and Maltese Embassies abroad on the subject.