How to build an automated ecommerce store with Gumroad and Printful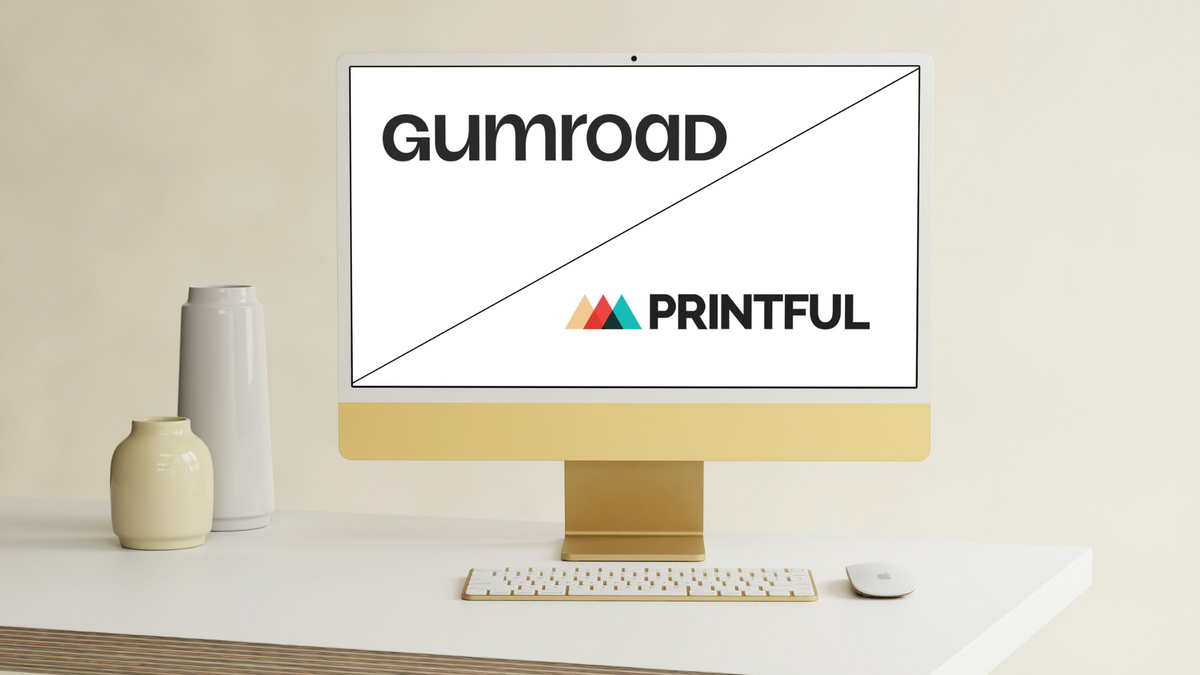 Integrating a Printful store with your Gumroad account is one of the easiest ways to start a simple ecommerce store with automatic fulfilment. Gumroad is an online marketplace that allows you to sell and buy different services, including digital and physical goods. Printful is an online 'print-on-demand' service that allows you to print your designs on probably anything. It also offers a number of convenient, ready-made integrations that can be used with platforms like Shopify, Amazon, Squarespace and, of course, Gumroad.
The idea here is to build an online ecommerce store that is as hands-free as possible for the owner. I use the example of a store I created, PropPosters, as a case study.
Sign up to Gumroad
We first need to set up an account with Gumroad. Once you sign up and choose a name for your Gumroad store, then we can start adding products. When you press 'New product', on the top right, Gumroad asks for details such as the name of the item you're selling, the type of product, and its price. In my case – selling printed posters, the type of product is 'Physical Good'. The price of the goods will depend on a lot of factors. I would suggest writing a random number to start with and then change it later after you have checked the total costs by Gumroad, Printful, taxes, and delivery fees.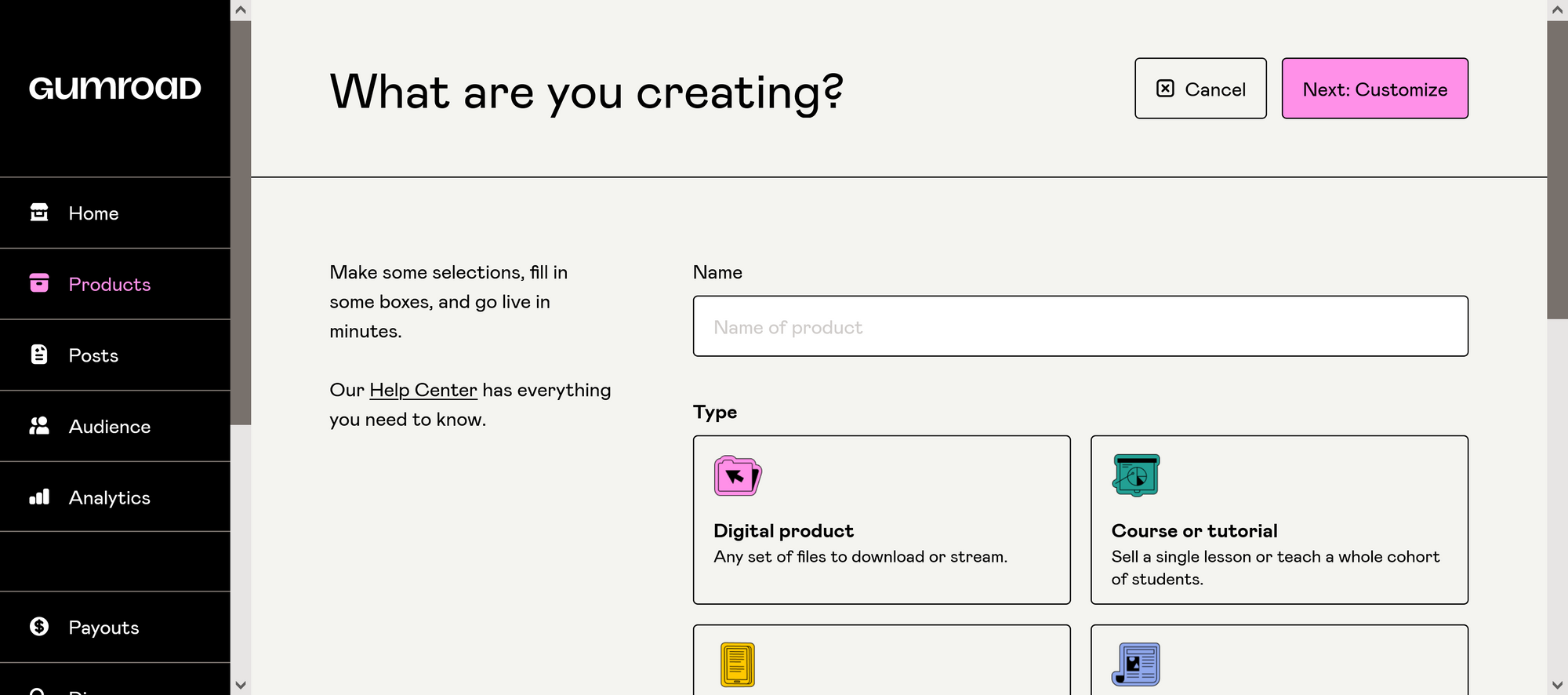 The next step is to add details about the product, in my case, the poster. There are a lot of details that can be adjusted for a single product. To start off, I would recommend adding a description of the product, a dedicated subdomain, and appropriate cover and thumbnail images.
Under the 'Checkout' tab, we will also need to select shipping destinations. As this is a physical good, Gumroad would not allow us to publish the product unless we have a shipping destination. For this store, I decided that only items being sent to US and European addresses are allowed. This was based on the delivery costs involved as provided by Printful.
Once you have filled in the necessary details, press publish and the new item gets added to the list of products on the 'Product' tab.
Connect to Printful
Now, in order to get orders fulfilled and sent to the customers, we need to connect our Gumroad store to Printful. There are a lot of automatic fulfilment places that can do the same, however Printful has a ready-made integration process for Gumroad that is easy to set up and allows you to start selling immediately.
Press 'Connect Gumroad store' on this link. Once you sign up for a Printful account, you'll see a step by step of how to connect your Gumroad store to Printful, as below.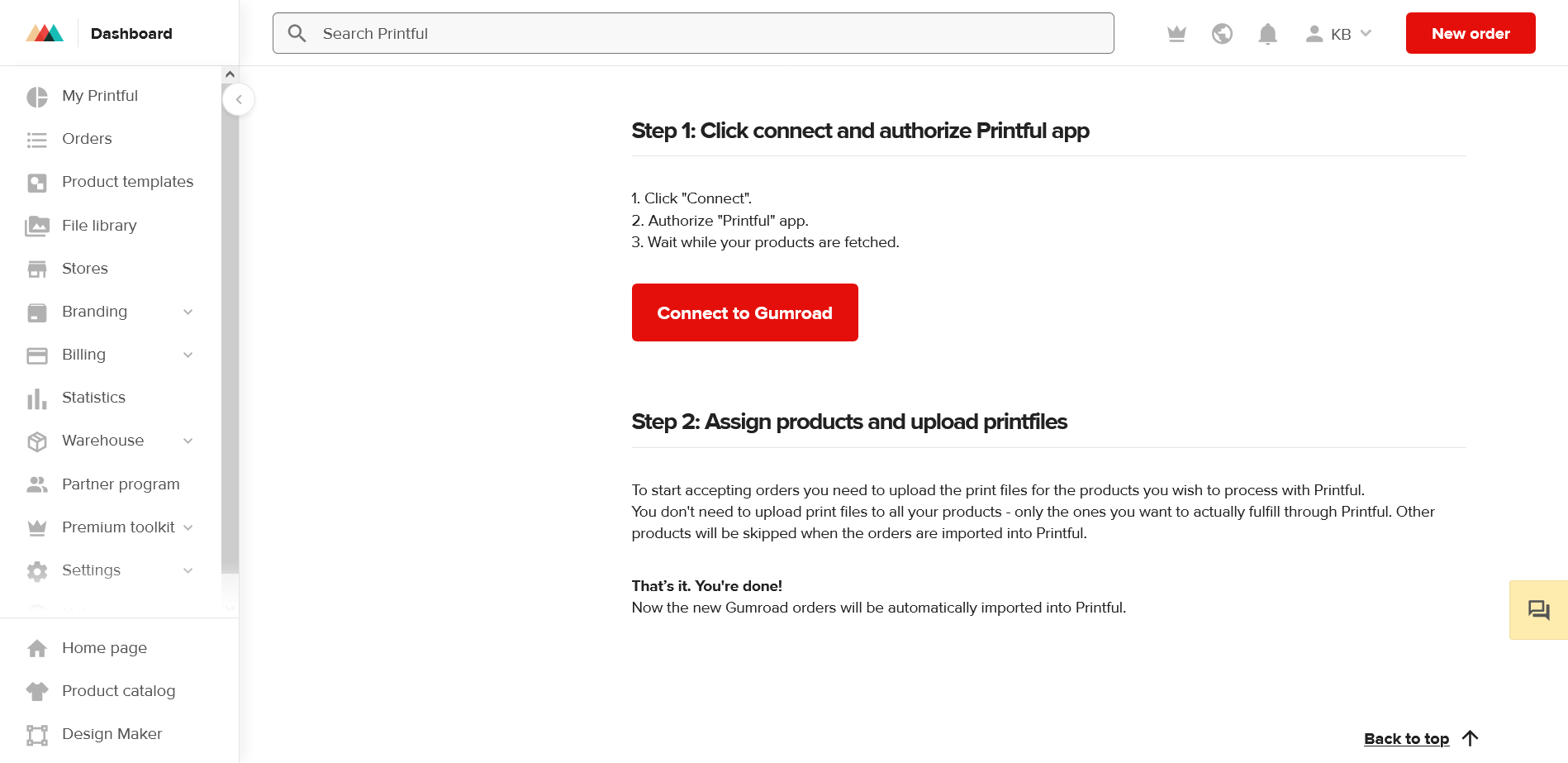 Every time you add products to your Gumroad store, these will come up on the Printful store automatically, however they will be listed as 'not synced'. In order to be able to sell, you will have to sync them by choosing the material being used to print on and the design itself. If the new products are not synced, the customers that buy from your Gumroad store will not be able to receive the product.
For example, for PropPosters, I had to select the type of material I wanted the posters to be printed on – enhanced matte paper, 18 inches (45.72 cm) wide and 24 inches (60.96 cm) long. I then added the designs that I acquired from Artvee, which allows you to download high resolution posters that can be used commercially.
This is what it looks like if your products are synced on Printful and ready for orders: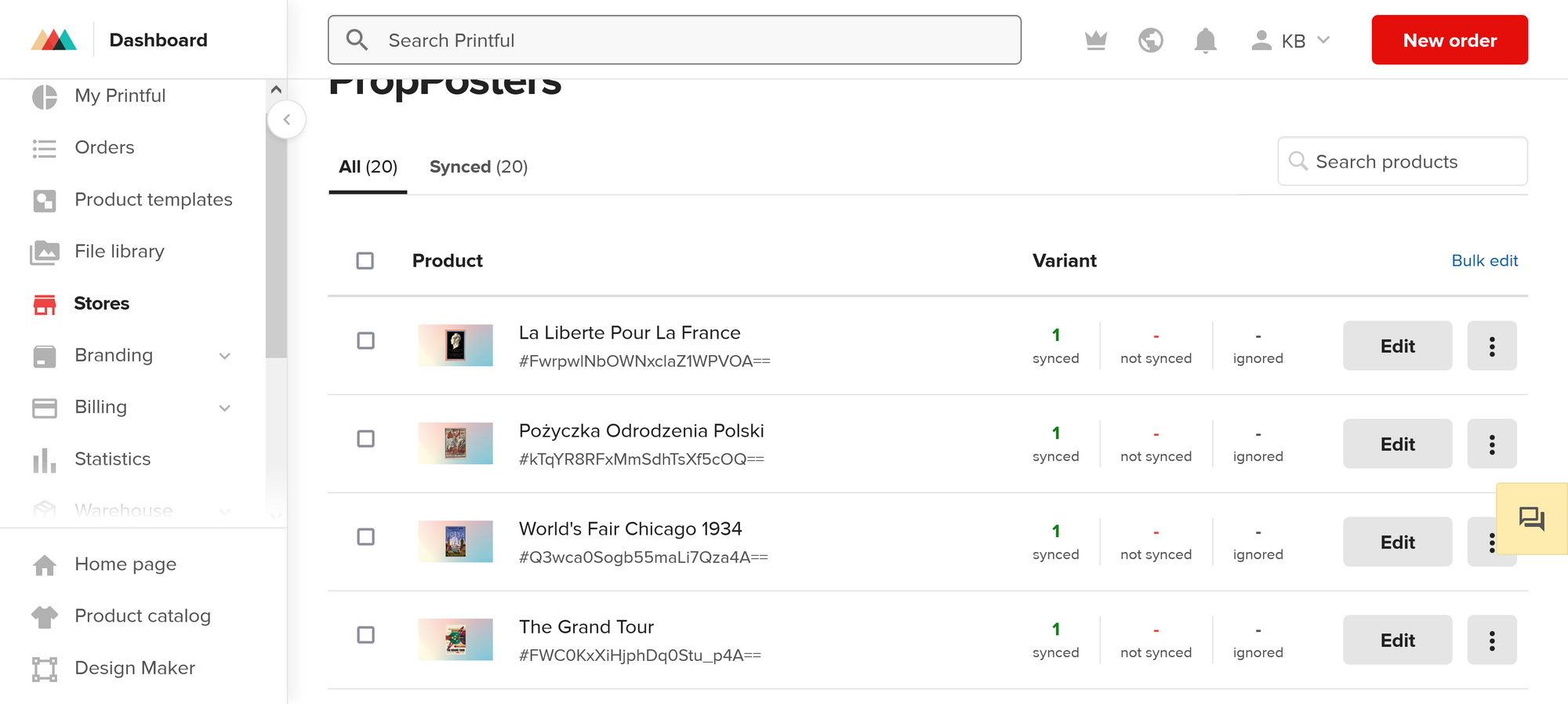 While in this process, Printful also shows you the price you will have to pay for that product, excluding taxes and some other charges depending on the product you're using. Once you know how much the product costs, you should then factor in Gumroad fees, which depend on how much you sell, as well as shipping fees. Add a slight percentage as your profit and go back to your Gumroad store to list the appropriate total price. If you're opting for free shipping to your customers, do not forget to add these costs to final price. If customers have to pay for shipping, then you will need to list the shipping fees under the 'Checkout' tab on Gumroad.
While you're on Gumroad, I would also suggest trying out the number of features that are offered by the platform. Depending on your preferences, Gumroad allows you to let customers choose the quantity of a specific item that they can buy, or limit the sales of an item to a specific quantity. You can also add discount codes, or send invites to your Circle/Discord to customers once they buy your product.
That's it, you're done! You now have a fully functioning automated ecommerce store and can focus on marketing.
Thank you for reading. If you would like to receive similar posts and updates, press 'Subscribe'.