UK Labour Leadership election: the online campaign - Part 2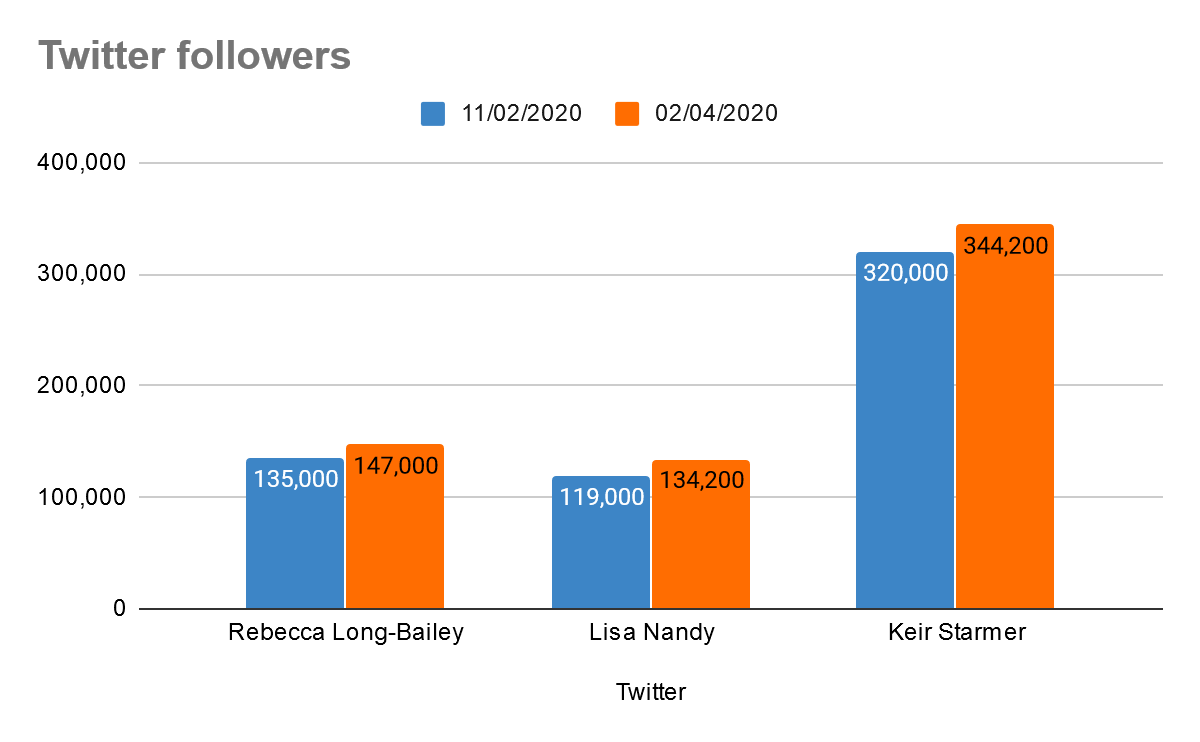 Back in February I had published a post regarding the social media following and number of ads promoted by the three contestants for leadership of the UK Labour Party, as well as a former contestant. The voting for the leader by members of the Labour Party, closed on 2nd April at midday and results were announced on Saturday 4th April. Keir Starmer was declared Leader of the Labour Party and Leader of H.M Opposition with 56.2% of the votes, followed by Rebecca Long-Bailey with 27.6% and Lisa Nandy with 16.2% of the votes.
In this post, I will show how the social media following of the three candidates changed between 11th February 2020, when the first readings were taken, and 2nd April, when the voting closed. We will also look at Twitter, Facebook and Instagram engagement rates of the campaigns in the past few days and I make some general observations at the end of the post including a brief overview of the number of ads published by the campaigns.
Readings were taken from the Twitter, Instagram and Facebook pages of the candidates on 2nd April 2020 after midday, when the voting closes, and numbers were rounded to the  nearest hundred. Statistics on the number of ads were taken from the Facebook Ads Library which tracks political ads on Instagram and  Facebook. Twitter forbids political advertisements on its platform.
Twitter 🐦
When it comes to Twitter, Starmer held the largest following in both readings, no doubt due to his previous position as Shadow Secretary of State for Exiting the European Union, which made him a well known personality with Labour Party members and UK nationals, ever since he was appointed in 2016. Between 11th February and 2nd April, he also managed to increase his Twitter followers to more than 334 thousand, i.e. 24,200 more followers or a 7.6% increase.
The other candidates have also seen an increase in their following: Rebecca Long-Bailey had 12,000 more followers on 2nd April, an 8.9% increase, while Lisa Nandy obtained 15,200 new followers, an increase of 12.8%.
Twitter is the only social media platform analysed which places Long-Bailey in second place, according to the number of followers. This is also the platform where we see the biggest difference in the number of followers obtained in this specific period, especially between Starmer and the two other candidates. One has to also keep in mind that Twitter has banned political advertising from its platform, so the campaigns could not create ads to increase their following and therefore had to rely on organic reach.
According to the phlanx.com Engagment Calculator Manager, Keir Starmer won the engagement rate as well on Twitter, where in the final few days he scored a 2.32%, on an average of 8,728 likes and 1,615 retweets. Lisa Nandy came in second with a 1.63% engagement rate on Twitter, and an average of 1,993 likes and 305 retweets, while Long-Bailey had a 0.58% engagement rate from an average of 624 likes and 246 retweets.
Instagram 📷
Keir Starmer was also in the lead on Instagram, ending up with 25,000 followers by 2nd April. This represents 5,000 more followers than on 11th February, an increase of 25%. The runner-up here was Lisa Nandy, who saw an increase of 2,200 followers, which marks a 48.9% increase from the original reading, while Rebecca Long-Bailey, who started off with a remarkably low following on Instagram, saw an increase of 200%, or 3,400 more followers than on 11th February.
According to the same Engagement Calculator Manager, Starmer had the highest engagement rate on Instagram with 7.41%, an average of 2,669 likes and 162 comments on his last few posts. The runner-up in the election, Long-Bailey, recorded an engagement rate of 5.86% with an average of 303 likes and 14 comments, while Nandy scored 4.96% on the engagement rate, with an average of 323 likes and 30 comments in the final few posts on her Instagram profile.
Facebook 👍
As in the case of Instagram, Starmer and Nandy also had the lead on Facebook. Starmer increased his following from 25,700 to 29,500 likes, an increase of 3,800 likes or 14.8% on the first reading. Lisa Nandy, with the second highest like count on Facebook among the three, saw her likes increase 17.6% or 2,100 more likes than on the 11th February reading. While, Long-Bailey managed a 60% increase on the original like count, with 3,000 more likes on 2nd April.
An interesting observation that must be made here is that Rebecca Long-Bailey used a seperate Facebook page for her leadership campaign, created specifically for her candidacy. Ads on Facebook were also being promoted through this page – 'Rebecca for Leader', rather than on her official personal Facebook page. This, of course, put her in a disadvantage with the other candidates, who all used their official personal page to campaign for leadership. This makes the 8000 like count on her campaign page even more impressive, but it may have hindered her potential organic reach, by not using her personal 28,600 like-strong page in the campaign.
If we put the Engagement Calculator Manager at work here as well, we will find that Lisa Nandy won the platform, with her 8.62% engagement rate on an average of 1,000 likes and 235 comments. Starmer came in second place with an average engagement rate of 4% from an average of 1,279 likes and 408 comments on his posts. Meanwhile Long-Bailey had a 2.66% engagement rate with 181 likes and 33 comments on her average post in the last few days. The story is quite different on her personal page however, where she recevied a 21.82% engagement rate with an average of 5,300 likes and 947 comments. However, this might be the result of her concession post, which received a huge number of likes and comments, when compared to other posts.
General comments 🕵️
Social media following alone cannot, of course, account for Keir Starmer's victory in the Labour leadership election – indeed, Lisa Nandy places second in two of the three platforms, while Long-Bailey placed second in the leadership election with close to 11 points more than Nandy. At the same time however, the analysis above does gives us an indication on the level of popularity that Starmer enjoyed within the Party and why he won 56% of the vote.
An online campaign is not just about the number of likes or followers obtain. Facebook and Instagram, which still allow political advertising, have been used extensively to push forward ads by all three candidates, but especially by Keir Starmer.
Indeed, during my research I found out that while Lisa Nandy targeted 79 ads between 11th February and 2nd April, and Long-Bailey promoted 105 ads in the same time frame, Starmer's campaign had a staggering 1,689 ads on the Facebook and Instagram platforms. What's more is that these ads, where A/B tested throughout the campaign, which made it possible for the Starmer campaign to target the best copy, picture or video to the most receptive audience.
It would be interesting to delve deeper into Starmer's online campaign, as it seems to have been the most formidable when compared to the other two. I plan to write a stand-alone post on this in the near future, where we will analyse how Facebook and Instagram might have played a crucial role in Starmer's win on Saturday.